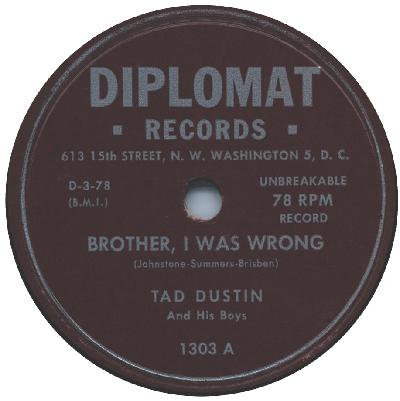 DIPLOMAT
613 15th Street, N.W.
Washington 5, DC
Research by Jay Bruder
DIPLOMAT 1303
TAD DUSTIN And His Boys
BROTHER I WAS WRONG D-3-78
(Johnstone-Summers-Brisben) B.M.I.
NOWHERE ELSE TO GO D-4-78
(Johnstone-Brisben)
a. Silver on Dark Maroon. 78 rpm copy confirmed.
"Brother I Was Wrong" is in the style of several fast talking country jive songs of the late 1940's and early 1950's by Tex Williams and Phil Harris. Appears to be a mid-1950's pressing on rigid plastic.