SCOOP
1309 13th Street
Washington, DC
Research by Jay Bruder
Between 1947 and 1948 Scoop Records was based at 1309 13th Street, NW, Washington, DC. The matrix ďM.F.Ē indicates that Scoop was a Feld Brothers' label.
The primary Feld Brothers' label was Super Disc which was active in both New York City and Washington, D.C. from 1945 until mid-1948. Super Disc was sold to M-G-M in the summer of 1948. The sale of Super Disc and its catalog of released and unreleased masters occurred in the middle of the second recording ban by the American Federation of Music. The buyer, M-G-M Records, was a relatively new start with major label aspirations and not much in the way of back catalog to offer for sale during the 1948 recording ban. Without access to any business correspondence documenting the sale we can estimate that negotiations started in May 1948 shortly after the release of Super Disc 1061and the release of M-G-M 10232 in July 1948 by the former Super Disc artist Viola Watkins marked the successful conclusion of the sale. The importance of this sale to the long term success of M-G-M Records can be gauged by the many Super Disc masters which were quickly released on M-G-M and the number of Super Disc artists who went on to greater prominence with M-G-M. Arthur "Guitar Boogie" Smith, Bull Moose Jackson, and Rev. Kelsey come quickly to mind.
With this as background, the Feld Brothers' Scoop label appears to have been a subsidiary of Super Disc. Scoop had a much shorter run than Super Disc and the performers were more directly tied to the Washington music scene. It is not know if Scoop was sold along with Super Disc, but it appears to have been contemporary with the last issues on Super Disc. Although Rev. Kelsey did make the move to M-G-M, he went on to even greater success with Decca in the early 1950's.
The known releases on Scoop show the diversity of talent in Washington during the late 1940s. Reverend Kelsey was a very well known African-American preacher from the Church of God In Christ. Billy Grammer was a hard working country artist who finally broke into the national limelight in the late 1950's with a Monument Records' release entitled "Gotta Travel On." The Christian Leader's Quartet provide a solid gospel performance in the African-American vocal quartet tradition. Unfortunately nothing is known about the group.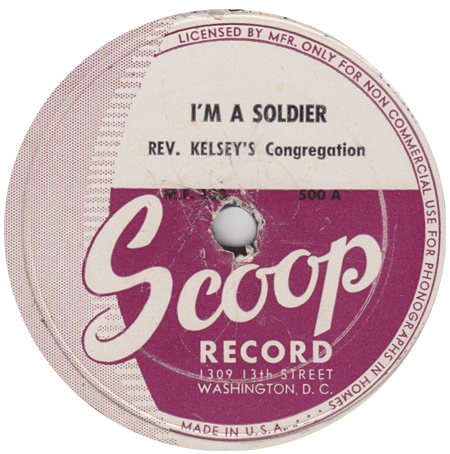 SCOOP 500
REV. KELSEY'S CONGREGATION
I'M A SOLDIER MF 133
BABYLON MF 135
a. Black on White and Purple. 78 rpm copy confirmed.
SCOOP 501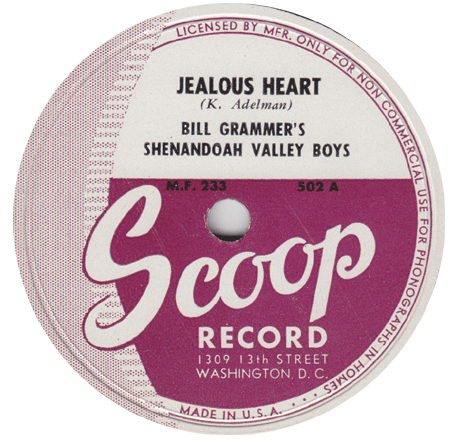 SCOOP 502
BILL GRAMMERíS SHENANDOAH VALLEY BOYS
PART OF MY SOUL MF 231
(Bill Grammer)
JEALOUS HEART MF 233
(K. Adelman)
a. Black on White and Purple. 78 rpm copy confirmed.
b. May exist as Scoop 102.
Kay Adelman was listed as composer of Jealous Heart. Her husband Ben Adelman ran Tru-Tone Recording Studios in Washington, D.C. and went on to record Patsy Cline, Roy Clark, Jimmy Dean, and Jerry Dallman among others.
SCOOP 503
REV. KELSEY
OLD SHIP OF ZION MF 128
LORD I'VE TRIED MF 134
a. Not confirmed. Source Hayes and Laughton Gospel Records 1st ed.
SCOOP 504
SCOOP 505
SCOOP 506
CHRISTIAN LEADERíS QUARTET
IíM GOING TO DIE WITH A STAFF IN MY HAND MF 168
IF YOU LOVE GOD, SERVE HIM MF 169
a. Black on White and Purple. 78 rpm copy confirmed.
- - - - - - - - - - - - - - - -
Scoop Record Company
Philadelphia, Pennsylvania
1947
This "Scoop" label featured in the June 1947 Billboard magazine review of Scoop 1001 clearly belongs to a Philadelphia, Pennsylvania company. The label's logotype was different from the releases attributed to the Feld Brothers. There were two additional labels doing business as "Scoop." The Scoop label of Los Angeles issued records in 1948 and 1949. Another Scoop label was based in San Francisco.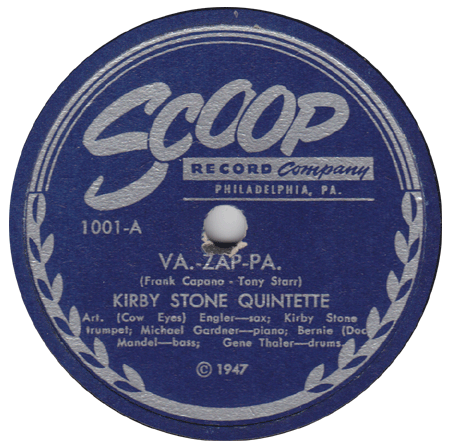 SCOOP 1001 21 Jun 1947
KIRBY STONE QUINTET
VA-ZAP-PA
MONEY, MONEY, MONEY
Billboard review 21 June 1947, p. 34. 78 rpm copy confirmed.